Webroot SecureAnywhere Business Endpoint Protection
Overview
The Global Site Manager console is designed to make managing multiple sites easier. At the end of July, we'll be adding even more functionality for that purpose, including:
» Personalizing block pages for the Web Threat Shield
» Enhanced device management details
» Mac ® policy management
What to Expect
Console updates will happen globally. No action is required on your part, and we do not anticipate any end user impact.
Based on customer feedback, we will be enabling policy management for Mac endpoints in two stages. The first step will enable configuration changes in the GSM console, while the second step will update endpoints to respond to the new policies. This approach will allow administrators to make policy decisions based on available options and communicate policy updates to their customers in advance of the changes. The timing of this second step will be based on customer feedback, and we will notify you a week prior to the update.
Custom Block Pages
When a user navigates to a page that has been identified by Web Threat Shield as malicious, the browser blocks the page and displays a "block page" explaining
why. This release will allow admins to personalize this block page with their
logo and contact information via the GSM console. The figure to the right shows the difference between a standard block page, and a personalized one.

To personalize the block page, navigate to Global Settings > Web Overrides > Block Page Settings
On the resulting page, you can upload a new logo and edit the contact information below the block message. The content editor will allow basic formatting.
Device Management
The new Device Management functionality gives admins an overview
of all devices across all sites, and can be easily filtered by Site or Status.You
can now send a clean up command to each device, restore infected files
from the quarantine and whitelist files from the GSM console. To access this
new functionality, simply go to the new Devices tab in the GSM.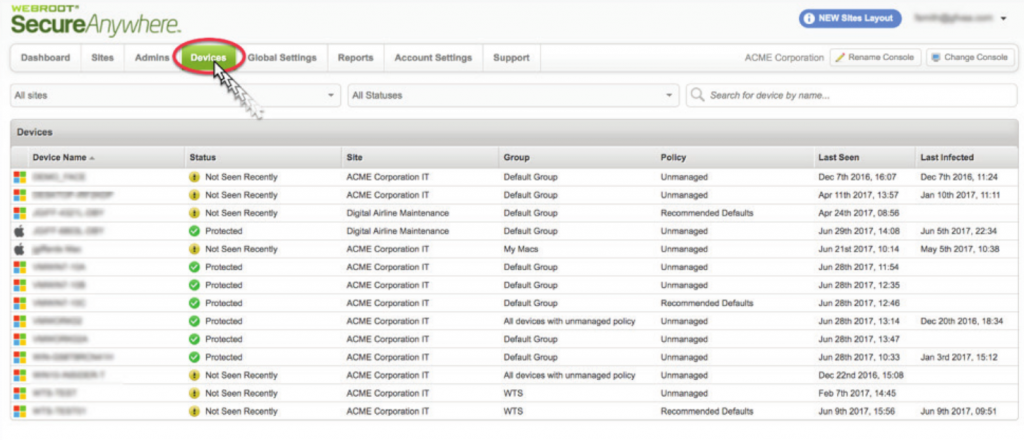 Based on customer feedback, we have added a table which provides a quick
overview of device status, making it easy to see which devices have not
reported in within the last 7 days. Additionally, admins can use wild
card searches to find specific device hostnames.
By clicking an individual device, admins can view additional device-specific
details, such as summary information, infections encountered, and URLs that
have been blocked by Web Threat Shield and DNS Protection, if enabled.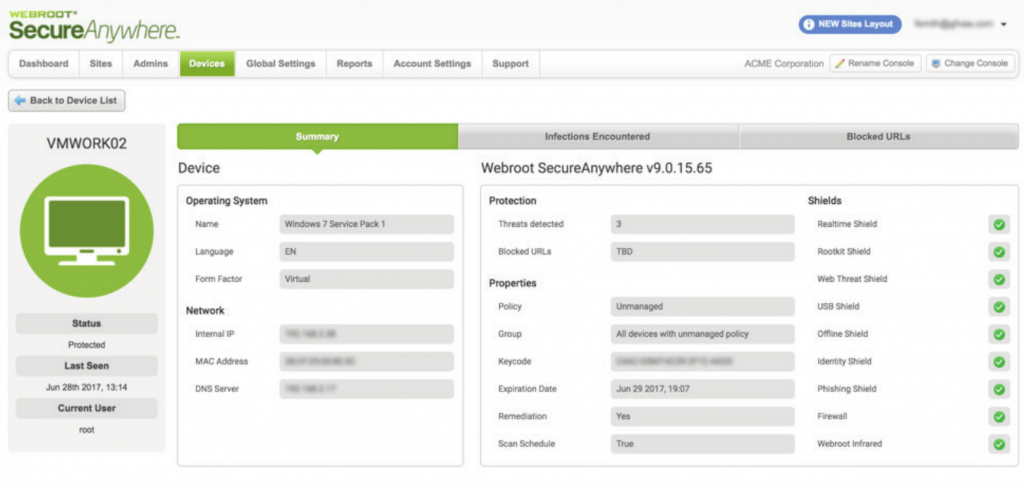 The Infections Encountered tab provides high-level information, including file
name, path information, the malware family to which the infection belongs,
and the date and time it was last active on the device.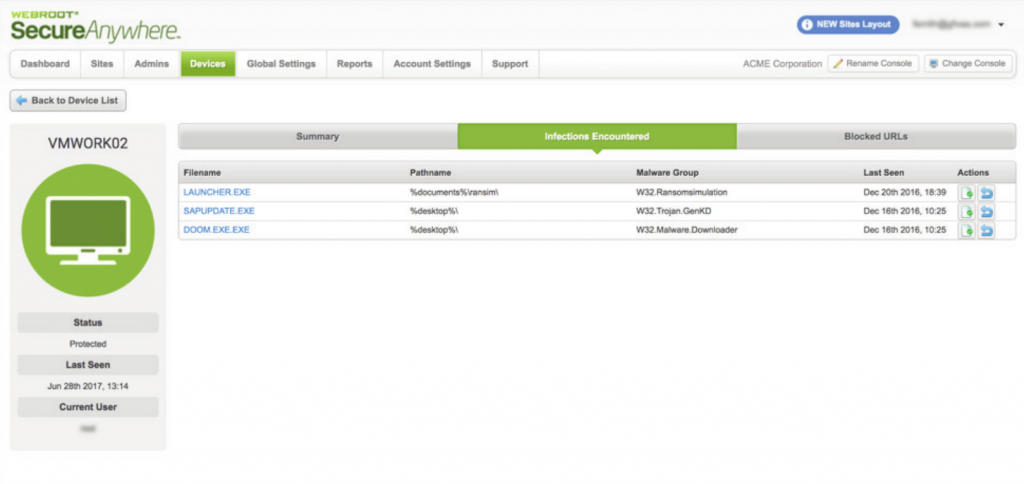 You can see additional information about an infection, such as dwell time, by
clicking its name.
Managing Mac Policy
Admins will notice changes in two key areas:
Policies
Group Management
In the Policies section, new icons will indicate which operating systems
support a given policy.

Once you have configured Mac policies, you must assign Mac endpoints to the
new policy via the Group Management tab. By default, Macs will be assigned
to an "Unmanaged" policy. For more specific directions on configuring Policies, please see our Help article on the topic.